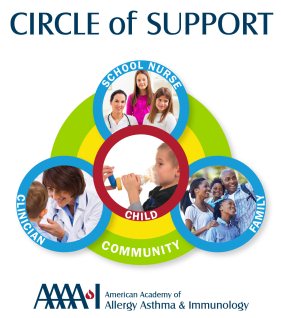 The American Academy of Allergy, Asthma & Immunology is sponsoring a new program termed the School-based Asthma Management Program (SAMPRO).
The program focuses on improving health and school-related outcomes for children with asthma. It requires the use of school-based partnerships that focus on integrated care coordination amongst families, clinicians and school nurses by using the following tools:
1. A Circle of Support amongst the families, clinicians and schools nurses centered around the child with asthma.
2. Asthma Management Plans to schools. This includes an Asthma Emergency Treat Plan for emergency management of asthma symptoms and an individualized Asthma Action Plan for each child with asthma. A standardized AAP is available.
3. A comprehensive Asthma Education Plan for school personnel.
4. A comprehensive Environmental Asthma Plan to assess and remediate asthma triggers at home and in school.
Visit http://www.aaaai.org/SAMPRO for a toolkit containing these materials.